KODO's kaoru watanabe made an appearance in seattle for a few fue workshops and a public performance in the storefront of Higo-Kobo on oct 1.2005.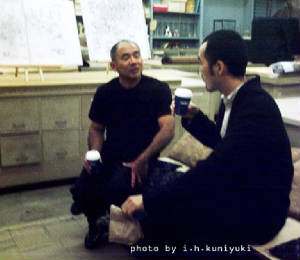 Kaoru's diehard fans in Seattle WA USA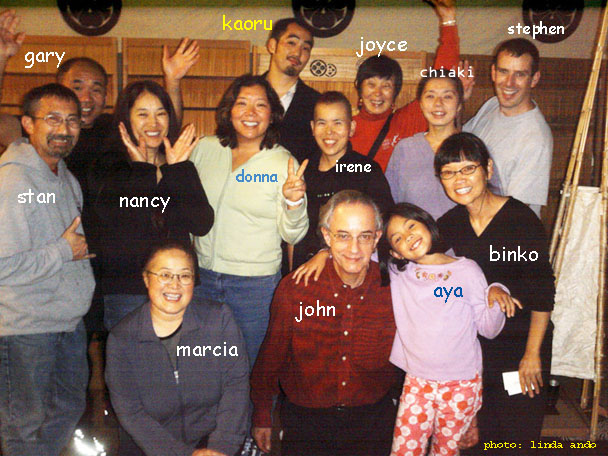 Taiko players, Taiko fans, Taiko Photographer...
Taiko Highlights of 2005
Last summer at the mini Obon festival held at Nikkei Manor, Karen Akada of Northwest Taiko exclaimed
" LET's DO A LIVE BON ODORI MUSIC EVENT!!!"
At the Seattle Cherry Blossom Festival in April, her dream was realized, live music performed by members of One World Taiko [ esther sugai--fue, marcia takamura --shamisen, nancy ozaki--fue & percussion, and gary tsujimoto on the taiko; switching off with donna zumoto and karen akada. The singers included Yukie Fujiwara, Dennis Yamashita, Tyrone Nakawatase, Masaye Nakagawa, Jenny Nakahara-Eng and a couple of others. They really did a great job in such a short time to be able to pull it off. The dancers included the 4 instructors from the Seattle Obon festival and the number one bon odori fanatic in seattle...my sister Vicki. hah~
Hanagasa Ondo, Tokyo Ondo, Tanko Bushi and Soran Bushi.
They performed both days and the popularity of it spread by word of mouth to fill most of the room on sunday. Saturday;s performance was more balanced...sound-wise, uniquely angled duo fue players like bookends in stereo. Flute-master Esther sure has the lung stamina to put out for all the songs.
The Sunday show was LOUDER, infact too shrill. the sound balance of duo fue's sure made a difference without the fue-master's presence. the taiko drummers were increasing the pace which made the singers stumble on their words.
GIVE IT UP FOR THE LIVE BON ODORI BAND!!
whens the next one happening?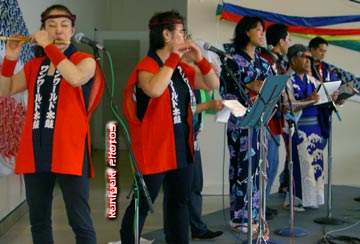 Taiko Highlights 2004
Nothing overly spectacular happened this year.
The Regional Taiko Gathering Conference's public performance was a packed house on Halloween and there was a Beer Tasting event going on in the building next door. It was freezing cold outside. But inside the show was HOT! All the groups put alot of high energy moves into their choreography.
Chibi Daiko from Vancouver BC are no longer chibi [small] they are big tall and powerful!
The best part of the entire show was OneWorldTaiko's Japanese traditional song - interludes between the groups on stage. They were positioned in basically the stage right walkway , crammed in- yet played with
cool gusto.
Seattle Kokon Taiko had a high energy driving piece that included Lika up front, the angle of the spotlight really added to the LOUD, REPETITIVE beat pattern
(the people behind me were gettin' hypnotized, while i was getting a concussion headache) well, that spotlight's angle was extreme from where i was sitting in the very front row--- all i could see was Lika's long ponytail flying around from side to side in a thrashing motion, her face had the MOST INTENSE
snarl i have ever witnessed on any Seattle Kokon Taiko member. WOW~ i really don't remember what else they played, just that song and Lika's intensity.
One World Taiko played their regular lineup standard song,
" KI" Gary tapping out some groovy beats, then the killer fue kicks in off in the darkness- directly in front of where i was sitting. Too close- i had to stick the ORBLens on the video camera. then the fue-master rejoins the rest of the group and is playing the shime in the background with marcia. after awhile, we end up just watching the floating heads of Esther and Marcia jammin' in the back if they arent totally blocked by G/N in the front.
i wish they'd change up the choreography or something, it gets so u dont want to go to their gigs, cuz its always the SAME time after time, unless of course someone misses an entire phrasing of music... then it's interesting to watch gary's face twitching.
INOCHI Taiko was the last group up on the stage, they are Tyrone & Garrett Nakawatase and Max Honkawa. They had a clean sharp style with good form and choreography, HIGH ENERGY . they write their own tunes.
The very best of the event was ONE WORLD TAIKO's japanezy interludes,
LIKA of SKT, and INOCHI's energy.
Taiko Highlights 2003
Somei Yoshino Daiko from the Bay Area performed in Tacoma in early march i had a really bad post nasal drip and my ear on one side was plugged. By the end of the concert, my misery was gone.
Their performance was a unique blend of theatrics, cool choreography, interesting lighting and spectacular stage presence. Great technique and stamina.
Taiko Highlights 2002
August 13, 2002: KODO performs at Benaroya Hall, as a benefit for KASA (Kodo Arts Sphere America). The first time i went to a KODO concert was 1986/7? i know it was cold outside, the other time it was in daylight savings time maybe '91? -only know by what color the tshirt was..red (when i washed it the ink came off)and then black with the YataiBayashi outstretched arms white on black)-so what years was that? When Yoshikazu came and did the taiko workshops, when was that? i know i had to take pics for the NW Nikkei.hmmm.
OKAY, 2002...here are the photos from the Pre Concert program in the lobby of Benaroya Hall. (for these style of visual effects i listened to MONDO HEAD for a continuous loop forthe entire time it took me to create them--from 12am to 8am for 3 days)