create & buy custom products at Zazzle

It's CiCaDa Season in the state of illinois! the majority of the invasion is located near the Forest Preserves in Park Ridge, il.--this is a suburb near Chicago. Cicadas crawl up anything with a vertical dimension..babies, your legs, dogs, even the toy bunny seen below.
This video clip was shot by vivian yamakoshi using a point and shoot digital camera nikon 4mp.
if you're looking for my Art Photos, please click the butoh photo below-->
Eyecandy, started out as the Taiko Photo Gallery in 2001, now it's on the verge of 2006, and i've expanded the site to include reviews, interviews and interesting facts on taiko and other groups that incorporate taiko in their music, or taiko players who have moved on to other forms of art/music.
My ART is "eXperimental". IT IS Photography that breaks the rules , i employ methods of process that are regarded as improper to purists, as in modifying cameras into mutated technology- by manipulating the lens or the film chamber- merging lotech with hitech.
Unconventional Shooting techniques—dangling my camera upside down and shooting by figuring out the angles of motion in relation to the swinging motion of the camera.
The photographic style i've mastered is Uniquely Innovative and CooL, like me.
100% trust between the subject and photographer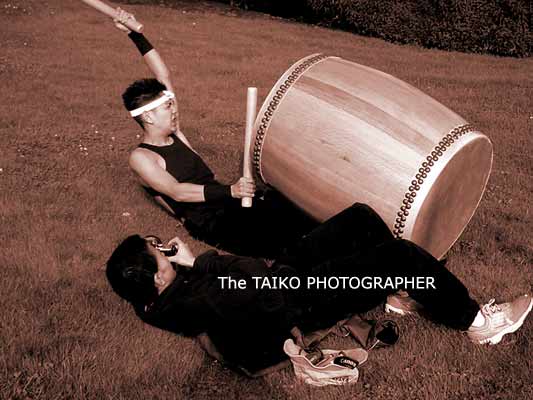 The Taiko Photographer!