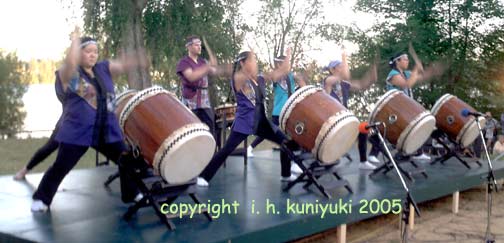 I was watching Q13 news tonite, and right before the sports, a local ad for an Auburn Car dealership came on.
All i heard was Auburn, Japanese and taiko beats.

Here u have an actual taiko song being played, it's many angles and cuts of Seattle Kokon Taiko! For car folks, its enough car imagery and for taiko fans, there's enough shots that u recognize the players, and u want to see it again. the shots i remember had Lika, Kosta, Marinda, they were most recognizable. I need to see it again. the drum arrangement was either Kagami or Kaeru..?

Do you recall the other visual ad with taiko?

It was the fancy editing Mitsubishi's flame & smoke ad where u see blips of an odaiko and slick poses and standard drumming and dont see a car at all- it gets BORING really fast. WhY? cuz there's not enuff actual taiko being played and u cant really see the faces.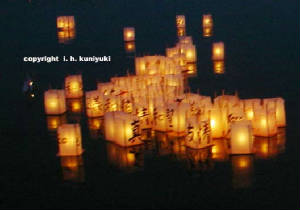 SKT performed 3 songs at the annual Hiroshima to Hope
: Hachijo, Soranbushi, and Alamorgordo.

on Hachijo: Mimi Wong was doing percussion (mokugyo and atarigane with shimoku/beaters). on Soran Bushi:ocean drum, on Alamagordo: percussion/Tibetan chime .
Shime players were Charlene Lee on Hachijo and Coll Thrush on Alamorgordo

Chu-daiko only on Soran Bushi ---
Performers were: Stan Shikuma, Joyce Nakamura, Kosta Kyriacopoulos, Charlene Lee, Jina Oshiro, Lika Roberts, Coll Thrush, Mimi Wong

Chillin' with members of KODO, 2002.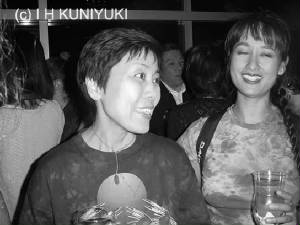 Yoko Fujimoto & Lika Roberts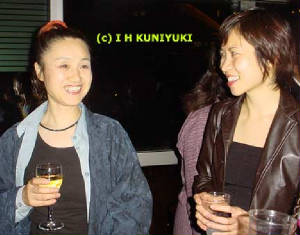 Chieko Kojima of KODO , Marinda Chen of SKT
Seattle Cherry Blossom Festival in 2002.